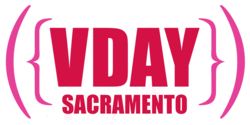 V-Day Sacramento is a local grassroots movement to end violence against all women and girls (cisgender, transgender, and gender non-conforming), bringing attention to the issues of sexual harassment, assault, domestic violence, rape, incest, and sex trafficking.
An entirely volunteer-run organization, V-Day Sacramento is a catalyst that promotes creative events to increase awareness, raise money, and revitalize the spirit of existing anti-violence organizations using the power of art and activism. 100% of funds raised go towards our commitment to ending gender-based violence.
The 2018 season is sponsored by Sacramento Take Back the Night. All proceeds will benefit A Community for PEACE, Sacramento Justice League and Wellspring Women's Center.